The Ha Giang provincial authorities held a ceremony on November 28 to mark the 10th anniversary of the province's Dong Van Karst Plateau being declared a member of the UNESCO Global Geoparks Network (GGN).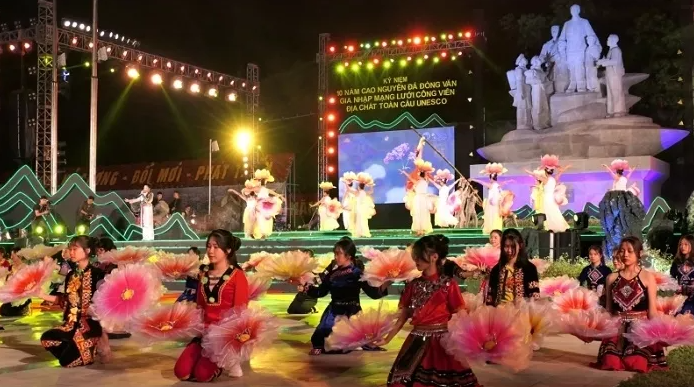 A performance at the event
In his speech, Chairman of the provincial people's Committee Nguyen Van Son said that over the past decade, the UNESCO status for Dong Van Karst Plateau has helped to foster socio-economic and tourism development in Ha Giang Province.
Local people have increased their awareness of preserving and promoting the geological, archaeological, and historical heritage of the site.
Speaking at the event, Vice Chairman of National Assembly Uong Chu Luu spoke highly of the efforts made by the provincial Party Committee, authorities and people of Ha Giang to further promote the potential of Dong Van Karst Plateau in developing local tourism.
He asked the local authorities to attach greater priority to boosting tourism and high-quality agriculture, improving transport infrastructure, preserving indigenous culture and ethnic groups, enhancing rural building, and maintaining defence and security in border areas.
For his part, Toshiyuki Matsumoto, Education Programme Specialist at UNESCO Hanoi Office, lauded the provincial authorities efforts to organise events on raising public awareness of the site's value and improving the livelihoods of people, particularly ethnic minority groups, who are living on the karst plateau.
He suggested the provincial authorities to study UNESCO's recommendations on building an action plan for Dong Van Karst Plateau, which can foster sustainable development while preserving prominent value of the site.
(NDO)