The UNESCO Programme and External Relations Commission of the 209th Executive Board has recognised Đắk Nông Geopark in the Central Highlands province of Đắk Nông as a Global Geopark.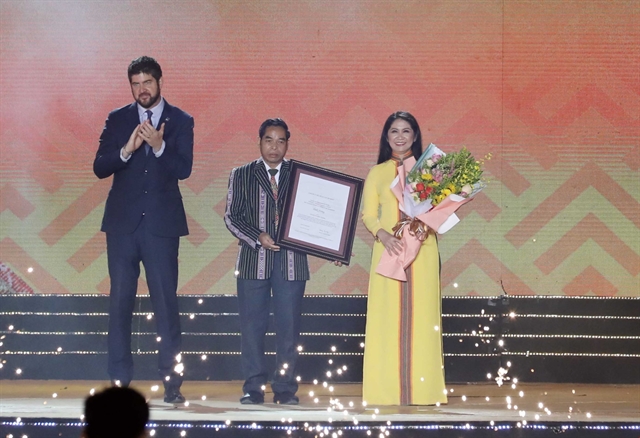 The recognition has marked Đắk Nông Geopark the newest member of the global geopark system.
It is also the third geopark in Việt Nam to be awarded the title by the UNESCO, after Đồng Văn Karst Plateau in the northern mountainous province of Hà Giang and Non Nước Cao Bằng in the northern border province of Cao Bằng.
A ceremony to grant the 'Global Geopark' title to Đắk Nông Geopark was held in the province's Gia Nghĩa City on Tuesday night.
Covering more than 4,700sq.km or two-fifths of the Đắk Nông Province's area, the geopark stretches over six of eight districts of the province, namely Krông Nô, Cư Jút, Đắk Mil, Đắk Song, Đắk G'Long, and Gia Nghĩa Town.
According to Vietnamese and international scientists, the entire Đắk Nông Geopark has about 65 relic and geomorphological sites, including a system of craters, volcanic caves and waterfalls.
Alongside the most massive system of volcanos in Southeast Asia featuring 50 volcanic caves with a total length of more than 10km, the geopark is home to several local ethnic minority groups such as Mơ Nông, Mạ and Ê Đê.
Visiting the region, tourists can enjoy Central Highlands gong culture, which has been recognised by the UNESCO as a Masterpiece of the Intangible Heritage of Humanity. They also can learn about the culture of local Mơ Nông people – the oldest ethnic group in Đắk Nông as well as the centuries-old stone music instruments made by ancient people.
Unique ethnic cultural and gastronomy festivals year-round are another distinct feature of the region.
Speaking at the ceremony, Head of Office and UNESCO Representative to Việt Nam, Michael Croft said the distinctive features of the Đắk Nông Geopark are the majestic natural beauty and unique culture of local people.
He stressed that these important features need to be preserved and protected and be linked with other tourism and economic activities.
Croft also said UNESCO will work closely to make the most of the Đắk Nông Geopark's tourism potential.
Alongside the ceremony, on Tuesday night, participants witnessed the opening of the 2nd Việt Nam Brocade Festival.
Fourteen provinces and cities nationwide are participating in the six-day event, which aims to honour the traditional brocade products of Việt Nam's ethnic minorities as well as the cultural values of traditional craft villages.
The festival is expected to create an opportunity for ethnic artists nationwide to meet and exchange experiences and search for a stable output for brocade products, increasing incomes for locals and creating tourism products for Đắk Nông.
VNS