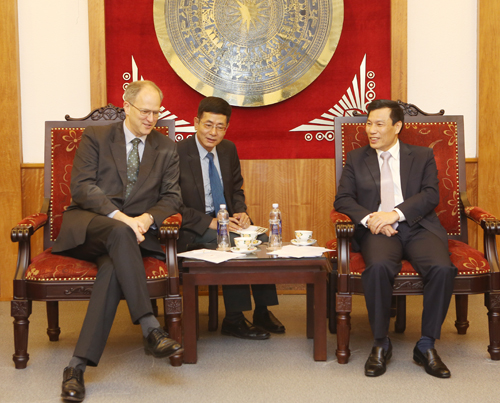 At th greeting day.
(Cinet)- On April 22, in Hanoi, Minister Nguyen Ngoc Thien had a greeting day for Germany's ambassdor in Vietnam, Christian Berger.
At the greeting day, Minister of the Ministry of Culture, Sports and Tourism Nguyen Ngoc Thien sent a best words for ambassador Christian Berger in new working period in Vietnam. The Minister hoped that an ambassador Christian Berger would enhance cooperating relation between Vietnam and Germany in terms of culture, family, sports and tourism.
The Minister affirms that Vietnam is a country that keeps, maintain and develop some cultural values. He stated a good relationship between two countries before and now. He highly appreciated some plans of Germany to maintain and develop some cultual heritage values in locals of Vientam; trained Germany language at some art schools of music, fine art museum. About tourism, Germany is one of some markets sending top visitors into Vietnam. Vietnam participated into ITB fair-Berlin, Germany and many activities to introduce destination, land and people in Germany. A sporting cooperation between two countries have promoted.
The Minister expected that a cooperating relationship between two countries would continue to develop. Two countries should organize some troupes to encourage cultural exchange, organize cultural days of Vietnam in Germany and cultural days of Germany in Vietnam.
Addressing at the greeting day, Mr. Christian Berger wished the best to Minister Nguyen Ngoc Thien as Minister of the Ministry of Culture, Sports and Tourism and hopes the Minister Nguyen Ngoc Thien to cooperate to develop relationship between two countries in the up-coming time.
The ambassador Christian Berger highly appreciated traditional and beautiful friendship relationship between Germany and Vietnam.
As an ambassador's opinion, Vietnam is a traditional country of culture and tourism with many beautiful landscape and friendly people. In the past time, Germany supported Vietnam some projects on maintaining and developing culture, landscape, especially in Hue. To develop cultural exchange between two countries, Goethe Institute was established in 1997. The Goethe Institute in Hanoi organized many Germany language studying course to introduce Germany's culture to Vietnam and other training courses to promote foreign exchange between two countries.
In the up-coming times, Germany embassy in Vietnam will positively some events to introduce Vietnamese culture in Germany such as display of Vietnamese archaeology in Federal Republic of Germany. Through that, the event attracts Germany's people to visit and find more culture, history of Vietnam. The ambassador, Mr. Christian Berger invited the Minister Nguyen Ngoc Thien to attend the opening ceremony in cultural events organized by the Goethe Institute in Hanoi.