In recent years, besides Chinese, French, Italian, Thai dishes… Vietnamese gastronomy is becoming famous. New York Times commented Vietnam as the "new gastronomy star in Asia"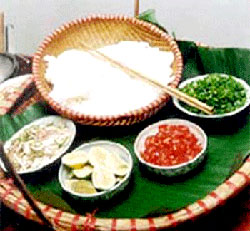 Vietnamese gastronomy: "Wonderful!"
That is the compliment from Mrs. Laura – first lady of President George W. Bush after trying Vietnamese dishes at Tib restaurant in Ho Chi Minh City. She and President of USA and first lady and Australian Prime Minister John Howard enjoyed Hue dishes such as lotus sweet soup, spring rolls… Before that, Mrs. Hillary – first lady of ex-president Bill Clinton also compliment spring rolls.
What about famous cook in the world? I really like Vietnamese food because there is the harmony between Yin and Yang in the dishes so that all food is light, delicious, nutritious and unique." – Yan Cook (famous for the program Yan Can Cook) commented after many times in Vietnam.
Mr. Didier Corlou (French) – Chief cook at Metropole Hotel, Hà Nội – who often cook Vietnamese food for VIP guests and heads of state – thinks that Pho (Noodle soup) is the most delicious food in the world and he wrote a book about Pho.
Japanese tourists are picky in gastronomy but also recognized that Vietnam is the country of unique dishes and tend to have flower- leaf – fruit food. Mrs. Sachiko Hoshizawa, famous cook of STV program (The Sapporo Television Broadcasting Co., Ltd) of Japan led her students to Vietnam to study about Vietnamese food. Mrs. Shinobu – host of the website www.vietnamfood-net.com – loves Vietnamese food so that she created this website to teach Japanese on Vietnamese dishes.
Source: DaNang Tourism