(Cinet)- On 31st December 2007, Minister of Culture, Sports and Tourism Ministry, Hoang Tuan Anh and a delegation of the Ministry worked in Thua Thien Hue.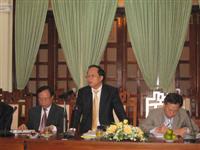 The Minister exchanged with Leaders of Thua Thien Hue Province on development direction and situation of Thua Thien Hue culture, sports and tourism. Culture, gym and sports, and tourism industries reported specific operational situations in 2007 and upcoming plans. The Minister had special interest in preparatory work for 2008 Hue Festival on organization time; suggested expanding organizational space based on promoting intangible and tangible cultural heritage; socialize promotion works; called for big investors' investment and mobilization. Additionally, he suggested the province for researching and further organizing activities such as holding Football Prize of Hue Festival Cup in co-ordination with Danang; opening international tourist Festival on East and West economic Corridor with the participation of Lao, Myanmar, Campuchia and ASEAN countries; exploiting the maximum efficiency of three tours within 9 festival days, e.g.
Minister Hoang Tuan Anh affirmed, "Intangible and tangible cultural heritages of Thua Thien Hue will be one of 15 heritages, which has proposed the Government to recognize as a special national heritage and make plans for preserving and promoting vestiges' values.