Since it was opened to the public three years ago, the one-pillar pagoda in Khon Kaen province has become a tourist attraction for Vietnamese, Thai, and other international visitors.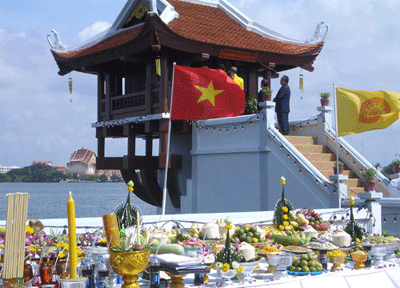 Located in the Vietnam-Thailand Friendship Park, the pagoda was modeled after the One-Pillar Pagoda in Vietnam and is a symbol of Vietnam's culture in Thailand.
Hoang Minh Tam, Chairperson of the Vietnamese Association in KHon Kaen province, said they had built the pagoda to feel less homesick.
The pagoda symbolyses Vietnam's 4,000-year history, and we want the future generations to remember their ancestors' culture, Tam said.
The one-pillar pagoda is now a venue for many important events of the Vietnamese community in Thailand. It is also a spiritual demonstration for thousands of overseas Vietnamese on special occasions.
In 2010, the pagoda was recognised by the Khon Kaen authorities as one of the nine most famous pagodas in the province.
Regarding the spiritual value of the pagoda, Tran Nguyen Truc, the Vietnamese Consulate-General in Khon Kaen said the pagoda will attract visitors from the province and Thailand in general.
The construction of the pagoda, as part of the Vietnam-Thailand Friendship Park, was funded by the Vietnamese community with the assistance of the Khon Kaen authorities.
Source: CPV