Fashion TV (FTV) will choose four Vietnamese models for its Miss FTV 2007 in Thailand.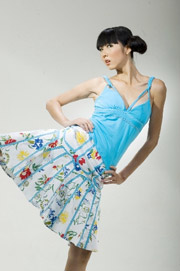 Model Ngoc Quyen
Director of P.L Model Agent Company, Thanh Long, said that he received FTV's invitation to send 20 models to a fashion show on Mega-F Diamond Cruise Ship of FTV on November 9 at Nha Rong Wharf, HCM City. There, FTV Jury will choose four models for its Miss FTV 2007 in Thailand on November 13.
P.L Model Agent Company has nominated four women, Thanh Hoai, Khanh Ngoc, Ngoc Quyen and Hoang Diep. The personal records of these models have been submitted to the Art Performance Agency for consideration for licencing.
Of the four models, Khanh Ngoc is the tallest, 1.81m. She won the Gold Prize at the Vietnam Supermodel 2007 contest and represented Vietnam at Miss Universe 2004 in Ecuador.
Ngoc Quyen entered the finals of the Vietnam Model 2006 contest. This 18-year-old model is also an actress.
Model Thanh Hoai was the first runner-up of the Miss Vietnam in photo and attended Miss Earth 2005 in the Philippines.
Hoang Diep, 22, is an exclusive model of P.L.
Miss FTV 2007 is a weekly contest. Each week around 20-30 models are invited to compete on the Mega-F Diamond boat. The three top models will enter the year-end Grand Finale round.
If their records are approved, the four Vietnamese models will go to Phuket, Thailand for Miss FTV 2007 on November 13.
In the fashion show at Nha Rong Wharf on November 9, Vietnamese models will model Thuan Viet ao dai and a collection of Van Thanh Cong.
Source: Vnn